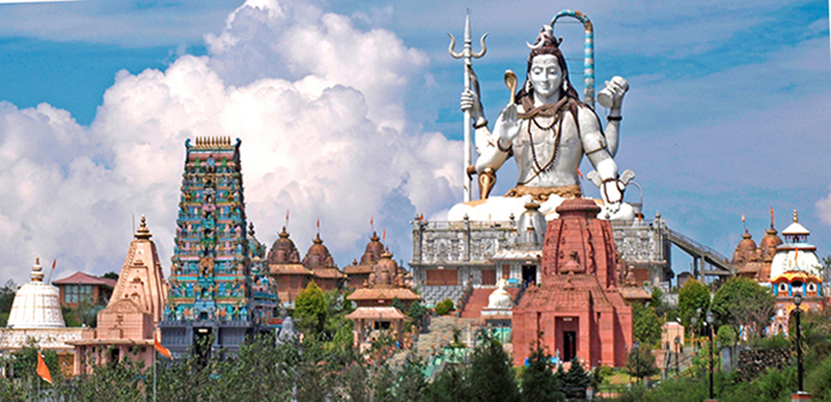 108 Feet High Shiva (Shivji) Statue and Chardham Temple Replica at Namchi Sikkim
Designed By Temple Architect Mr. Subhash Bhoite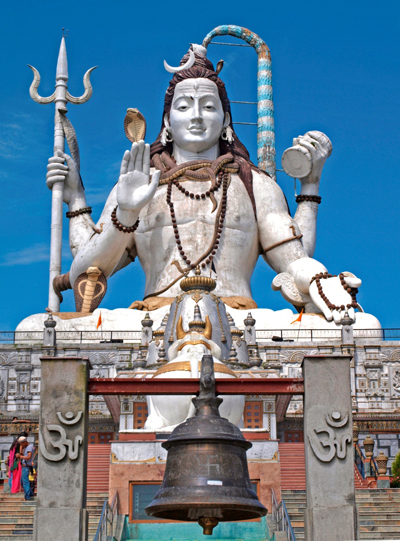 Statue of lord shiva (shivji) 108 feet high
Designed by Temple Architect Mr. Subhash Bhoite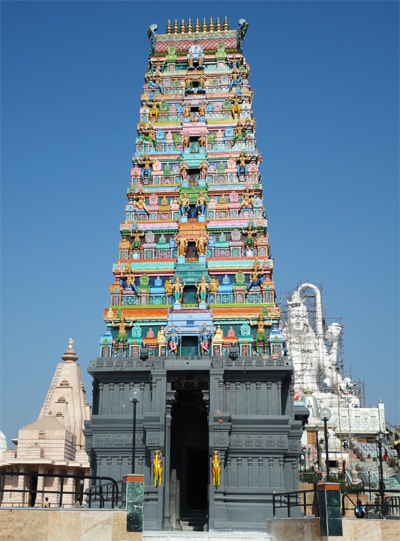 Rameshwar Dham Replica
Designed by Temple Architect Mr. Subhash Bhoite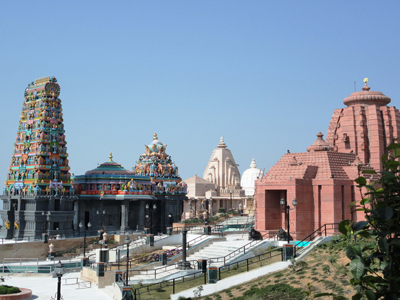 Site view replica of chardham Temples
Designed by Temple Architect Mr. Subhash Bhoite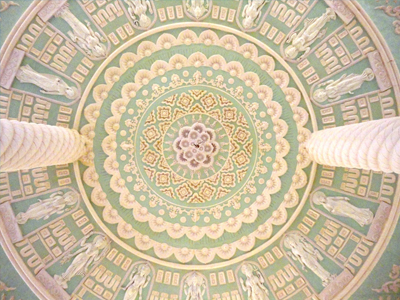 Artistic False Ceiling of Prayer Hall Design at Namchi, Sikkim Designed by Temple Architect Mr. Subhash Bhoite
Project Details
A 108 feet Grand RCC statue of Lord Shiva is constructed on top of a Solophok hill which is 5 kms away from Namchi in Sikkim state. Lord Shiva with four arms is sitting over a tiger skin. Four arms like, one rear side right hand is holding a Trishul, front right side hand is giving blessings to devotees who are praying in front of him, rear side left hand is playing Damru and front left hand is like chanting mantras in praying / dhyanasta position. He is wearing tiger skin around his waist. Rudraksha malas and snacks are around his neck and arms. Neck's front part is in blue colour. This is due to drinking of Shashnag's poison at time of samudramanthan. His jatas (bunches of hair over head) are holding Ganga Mata who came from heaven to earth as per Shri. Bhagirath's prayer. This Ganga will flow from Lord Shiva's head in form of fountain. Lord Shiva is known as destroyer; but he is also known as Bholenath (Soft hearted God). Whole statue will be in Light blue colour metalizing. Base of the statue is a hall with art work of Shivji's Mahima (Stories) carved over walls to explain Lord Shivji's stories. This Lord statue is surrounded by replica of his twelve Jyotirlingas which are spread over India.
STATUE OF LORD KIRTESHWARA 20 FEET HIGH:
Solophok Hill has a historical fact in religious belief. According to Hindu (Mythology) faith, during the war fought between Kauravas & Pandavas when Arjuna was devoting in this particular place, Lord Shivaji revealed himself and blessed Arjuna. While Arjuna was praying a boar appeared before him which was being haunted by Kirateswar. Co-incidently, the boar was killed by two arrows shot by Arjuna & Kirateswar and hence there arose a dispute for claim of the dead boar. In lieu of the prey, Arjuna begged Kirateswar for his favour of winning the battle against the Kauravas but Kirateswar declined the request rather committed to remain unbiased although he was inclined to Kauravas. It was believed that the help and favour of Kirateswar would be a winning weapon. Thus people still visit this sacred place with the hope of attaining salvation, peace & prosperity. Furthermore, they have faith in anticipation that having seen this place there would be forgiveness of sin.
CHARDHAM TEMPLES REPLICA:
It is situated at Solophok Hill which is 5 km. away from Namchi town; it is believed that a visit to the place is enough to wash away one's sins. Chardham, which is situated in India in four different places like East Jagannath, West as Dwarika, South as Rameshawaram, North as Badrinath Dham, where especially Hindus consider the main pilgrimage. In Sikkim, South (Namchi) specifies the important four Dhams which is in Solophok (Solokpur). One Sri. Shirdi Saibaba temple and one more Shiva temple are planned in the Project
There are other structures in this centre to show art & culture of Sikkim state. Landscaping of centre is done lots of water bodies with statue of Ganga & Yamuna and plants at different levels. Totally it is designed to pilgrimage of whole India at one place at Sikkim.

Hide
|
Know More..